Copyright 2016©
Polycarbonate Options
Macrolux Multi-wall Polycarbonate sheets are assuming a more and more important role in the transparent building materials market. A wide selection of colors, sizes and configurations are available.
APPLICATIONS

Macrolux Multi-wall Polycarbonate Thermo-glazing is perfect for applications requiring material which offers high light transmission,
thermal insulation
, light weight yet amazingly strong, high shock resistance, flame retardant, great economy, vandal resistance and design flexibility. Consider using Macrolux Panels in your project.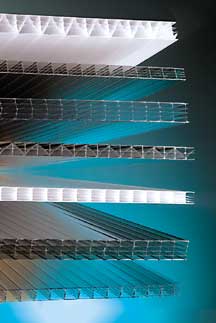 HOME IMPROVEMENT: Multi-wall Polycarbonate is a great choice
for easy do-it-yourself projects like window replacements, shower enclosures, hobby green-houses, partitions, light covers, patio covers, carports and more. 
HORTICULTURAL: Multi-wall Polycarbonate is the preferred glazing of choice for greenhouse coverings where good thermal insulation is necessary together with high light transmission.
ARCHITECTURAL GLAZING: With the ability to be cold-formed into arches, Multi-wall Polycarbonate offers architects design freedom that is not possible with other glazing. Consider the possibilities of using Multi-wall Polycarbonate for walkways, indoor shopping centers, swimming pool coverings, skylights, and other space enclosures.
INDUSTRIAL BUILDING: Multi-wall Polycarbonate for various glazing applications, skylights, walkways, windows, shelters, and insulated roofing.

Macrolux Multi-wall Polycarbonate Sheet