Copyright 2016©
Polycarbonate Options
Corrugated PVC Sheet
Owners of agricultural and light industrial buildings regularly choose the virtually indestructible PVC industrial roofing Panel for its remarkable durability, ease of installation, and outstanding versatility. Featuring fast delivery and very competitive pricing. Call or Email now for a free qoute!
Corrugated PVC Liner Panels are strong, high-impact panels that naturally resist chemicals. Corrugated PVC Industrial roofing Panels are perfect for use on the most demanding applications.
Hog Barns
Salt Storage
Poultry Farms
Kennels
Industrial Buildings
Meat Packing
Facilities
Loafing Sheds

Factories
Dairy Farms
Fertilizer Storage
Fish Farms
Food Processing
Workshops
Car & Truck
Marinas
Lightweight Agrilite PVC corrugated
industrial roofing panels
are easy to handle and require no special equipment for installation. Agrilite™ can be cut using basic woodworking tools and is easy to clean with conventional spray equipment.
Attractive High Gloss White Finish
Impact Resistant
Great Economical Alternative to Metal
Excellent Light Reflectance
Smooth Surface for Easy Cleaning and Maintenance

Excellent Chemical Resistance
Non-Flammable
Rust Proof
Resists Marking and Scratching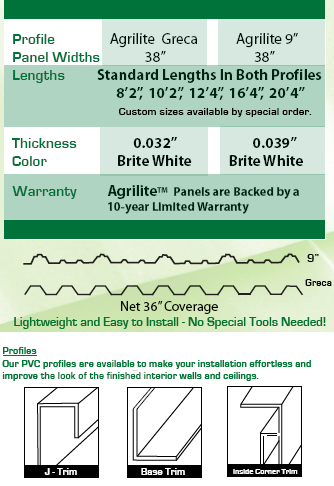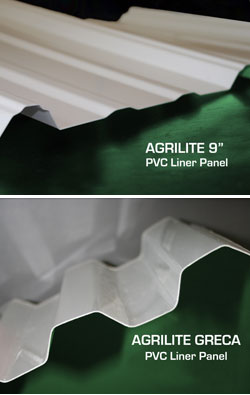 Please Note: $350.00 Minimum Order on Corrugated PVC Material
(Excluding Crate and Freight Charges)
CORRUGATED PVC GRECA PRICING - SHINY WHITE
Up to 2,000 sq.ft.
$0.98/sq.ft.
2,001 - 9,999 sq.ft.
$0.86/sq.ft.
10,000 + sq.ft.
$0.74/sq.ft.
CORRUGATED PVC 9" PRICING - SHINY WHITE
Up to 2,000 sq.ft.
$1.18/sq.ft.
2,001 - 9,999 sq.ft.
$1.03/sq.ft.
10,000 + sq.ft.
$0.89/sq.ft.
CORRUGATED PVC PROFILE PRICING
PROFILE TYPE
LENGTH
PRICE PER PIECE
Inside Corner
10'
$7.96
J Trim
10'
$5.06
Base Trim
10'
$3.34