Copyright 2016©
Corrugated Polycarbonate Sheet
Corrugated polycarbonate sheets provide design professionals, greenhouse growers, and do-it-yourselfers with an easily fabricated and installed building product. Unique physical, mechanical, thermal and optical properties combine to make corrugated polycarbonate flexible and strong, yet light in weight.
EXTENSIVE PRODUCT RANGE
Greca Profile is appropriate for agricultural, industrial and do-it-yourself applications. Arc Wave Profile is a superior replacement for fiberglass in all applications and for do-it -yourselfers. Condensation Control is ideal for damp environments like greenhouses or pool enclosures. Available Colors include water clear, bronze, and opal, with custom colors on special orders.
APPLICATIONS
Corrugated polycarbonate sheets are perfect for applications requiring high light transmission in a lightweight yet strong product. The special corrugated profiles (when compared with flat glazing materials), provide greatly improved strength and rigidity while maintaining flexibility. Our corrugated polycarbonate sheet features high impact resistance, is self-extinguishing and is U.V. protected. It is well suited for a wide temperature range and provides great economy, vandal resistance and design flexibility not found in other thermoplastic products.
Corrugated Polycarbonate Pricing - Click Here
Polycarbonate Options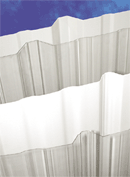 HORTICULTURAL
Corrugated panels are recommended for greenhouse coverings, end walls and interior partitions where high light transmission, high P.A.R. light, and excellent U.V. protection is required. Our optional glass modified feature combines the best qualities of polycarbonate with glass to increase light diffusion and create a more abrasion resistant surface. Ask your distributor for details.
DESIGN PROFESSIONALS
industrial sloped and vertical glazing, sun roofs, conservatories, walkways, canopies, pool enclosure, shelters and more.
HOME IMPROVEMENT (do-it-yourself)
Hobby greenhouses, sheds, patio covers, gazebos, carport covers, awnings and much more.
Corrugated Polycarbonate Pricing - Click Here