Corrugated Polycarbonate Specifications




Corrugated polycarbonate sheets are a popular roofing and siding material because they are easily fabricated and simple to install. They are also light weight with very good thermal and optical properties. Corrugated polycarbonate sheets are an excellent value when compared to other residential or industrial roofing options.

CORRUGATED POLYCARBONATE SHEET APPLICATIONS

Corrugated polycarbonate sheet is perfect for applications requiring high light transmission in a lightweight yet strong product. Corrugated polycarbonate sheet features high impact resistance, is self extinguishing and is U.V. protected. It is well suited for a wide temperature range and provides great economy, vandal resistance and design flexibility not found in other thermoplastic products.

Some of the more popular uses for corrugated polycarbonate sheet include: Greenhouse construction, patio coverings, industrial roofing, walkways, pool enclosures, and bus shelters just to name a few.

MANY BENEFITS OF CORRUGATED POLYCARBONATE SHEETS
LIGHTWEIGHT

At just 1/8 the weight of glass, corrugated polycarbonate sheet does not require the extensive structural support that a heavier glass wall or skylight needs. Lightweight sheets are easy to fabricate and easy to install.

SUPERIOR STRENGTH

Able to withstand extreme abuse, the strong corrugated sheet has an impact
resistance 20 times stronger than fiberglass and over 120 times stronger than glass.
Resisting hail, wind-borne objects and vandalism, corrugated polycarbonate can withstand over 235
inch - pounds of impact within a temperature range of -40°F to 240°F as measured by
ASTM D 3029.

QUICK, EASY INSTALLATION

Corrugated polycarbonate sheets simple design makes the installation process fast and virtually foolproof. It easily adapts to any wall or roof with a bending radius over 13'.

LOW FLAMMABILITY

Corrugated polycarbonate sheet meets the requirements of approved light transmitting plastic under the Uniform Building Code as recognized by ICBO, BOCA and SBCC.

LIGHT TRANSMISSION

Clear corrugated polycarbonate sheet transmits visible light - up to 90% (as measured by ASTM standards and demonstrated in the chart below) to your crops, house plants or enclosure.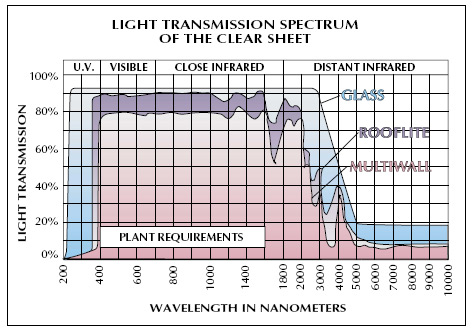 REDUCED U.V. TRANSMISSION

Corrugated sheet is essentially opaque to ultraviolet light at wavelengths below 385 nanometers. This U.V. protection will help to prevent fading and discoloration of interior decor as well as protect tender seedlings and greenhouse crops. Corrugated sheets are manufactured using state of the art co-extrusion technology combining color, U.V. resistance and durability. Remaining clear for many years, corrugated polycarbonate sheet is backed by a ten year, non-prorated warranty against yellowing.

BRITELITE®

By introducing glass into the polycarbonate material, the manufacturer has developed a product which gives you the best features of both. When incorporated into our corrugated sheet, Britelite offers high abrasion resistance as well as greatly increased light diffusion.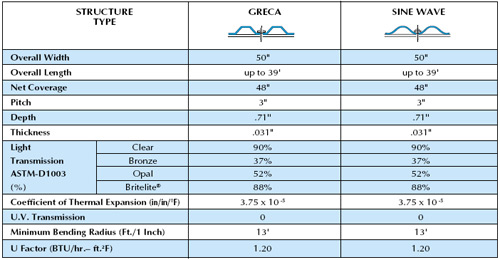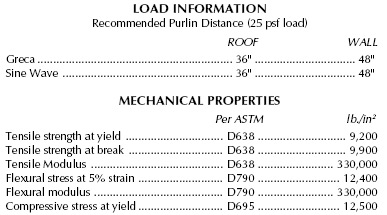 TEMPERATURE PERFORMANCE

Corrugated polycarbonate sheet is designed for normal use in temperatures from -40°F to 240°F making it appropriate for use in all climates.

SOLAR ENERGY

During early morning and late afternoon hours, standard flat glazing reflects solar light
and energy. The profiles of Rooflite are engineered to capture angled light for increased solar gain during colder winter months to save energy costs in greenhouses and other structures.

CHEMICAL STABILITY

Unharmed by most substances, it is necessary to avoid contact with adhesives, paints or solvents incompatible with polycarbonate. Avoid benzene, gasoline, acetone and carbon tetrachloride among others and use recommended closure materials, avoid P.V.C. shade curtains and gasketing. For specific product information, call us for compatibility recommendations.

CONDENSATION CONTROL

Factory applied condensation control is provided with corrugated polycarbonate panels. Reducing surface tension, the condensation control allows water to spread into a thin sheet rather than form into droplets. This condensation control helps create an optimal growing environment in the greenhouse by minimizing bacteria growth. In pool enclosures or other damp environments, condensation control will help resist mildew and fungus growth. Corrugated polycarbonate panels are ideal for all applications from greenhouses to backyard patio covers.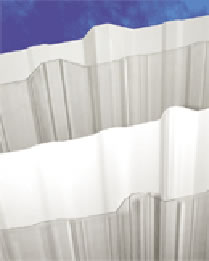 Whether you are considering a greenhouse or a carport, you can be assured that whatever you put under our corrugated polycarbonate sheet will be protected...

Corrugated Polycarbonate Sheeting protects your investment.

Our corrugated polycarbonate is 20 times stronger than fiberglass and over 120 times stronger than glass for excellent resistance to damage from hail and wind-borne debris or vandalism.

Corrugated Panels brighten interior spaces.

With up to 90% light transmission, corrugated polycarbonate sheet clearly provides a luminous interior and an optimal growing environment.

Corrugated Polycarbonate Sheets provide U.V. protection.

Ultraviolet light will not penetrate to fade or discolor interiors or burn tender plants.

Corrugated Sheeting adapts to any installation.

Corrugated sheet works equally well as a roofing material or wall component and easily adapts to curved surfaces.

Condensation control resists mildew and bacteria growth.

THE PERFECT CHOICE

You can be assured that from transport to installation, corrugated polycarbonate sheets will maintain their durability. Even when exposed to elevated temperatures over a long period of time, it will maintain its structural integrity. It won't crack or split when cut or drilled and can be easily fabricated using standard tools. It's ideal for quick, professional installation and works equally well for any do-it-yourself building project.