Copyright 2016©
Shade Cloth Options
Colored Shade Cloth and Sun Shade
Shade Cloth, Colored Shade Fabric, Greenhouse Shade 
Lightweight -  25-35% lighter than woven. Easy to install, roll up and store. Less stress on structure and on installed net.
Less heat build up - Better ventilation causes less heat build up inside structure.
Durable - U.V. stabilized for long life.
Strong - Lock stitch does not unravel if cut, and is easy to repair if punctured.
Wide Widths - Up to 3

4

feet.
Specify Length when ordering.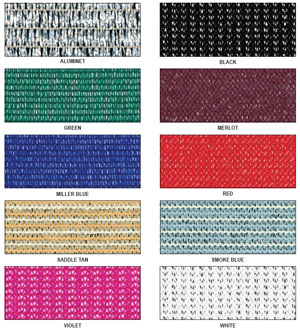 STANDARD WIDTHS (FEET)
Color
Shade %
6'
8'
12'
20'
26'
32'
Forest Green
70%
X
 
X
 
 
 
Pearl White
22%
X
 
X
X 
 X
 
Pearl White
40%
X
X
X
X
X
X
Pearl White
50%
X
X
X
X
X
X
Violet
45%
X
 
X
 
 
 
Miller Blue
60%
X
X
Red
80%
X
X
Smoke Blue
70%
X
X
Decorative Brown
70%
X
X
SHADE CLOTH - BULK PRICING/ FABRICATED STOCK SIZES
ITEM #
COLOR
SHADES %
PRICE/SQ. FT.
Additional shipping charges may apply for large quantities. A representative will contact you if additional charges are applicable.
KSC-FG70
FOREST GREEN
70%
$0.24
KSC-MB60
MILLER BLUE
60%
$0.30
KSC-SB70
SMOKE BLUE
70%
$0.30
KSC- RD80
RED
80%
$0.30
KSC- BR70
DECORATIVE BROWN
70%
$0.30
KSC-V45
VIOLET
45%
$0.30
KSC -W22
PEARL WHITE
22%
$0.18
KSC-W40
PEARL WHITE
40%
$0.22
KSC-W50
PEARL WHITE
50%
$0.25
Ordering Bulk Shade Cloth? Don't forget the Plastic Snap On Hinged Grommets

*$100.00 Minimum Order on Shade Cloth Orders. A $20.00 Small Order Surcharge will be manually applied orders less than $100.00.
** Additional shipping charges may apply for larger quantities. A representative will contact you if additional shipping charges are applicable.


Shade Cloths can be ordered in any lengths. Stock width sizes are shown above. Larger Shade Cloths can be made by sewing two or more stock sheet sizes together, then trimming if necessary.
Several ways to order shade cloth:
*Order online and choose from one of our stock sizes fabricated with taped edges and brass grommets installed every two feet
*Order online and choose one of our bulk stock widths (In the quantity field enter the length of the cloth you require) So for example if you want a cloth that is 6 feet wide x 20 feet long you would choose "6FT WIDE X LENGTH (BULK)" and then enter 20 into the quantity field
(Bulk shade cloth does not come with
finished edges
or grommets)
*Call us if you would like a size or requirement other than what is listed on our website
*Although the colors shown on our website are accurate on our computers, not all computers and devices show colors the same. If an exact color is required please take the time to order a free sample. They are Free!
SHADE RITE is a string lock-stitch knitted shade cloth, available in a wide range of widths and shade percentage grades. Its unique construction offers many benefits making it one of the most versatile and cost effective shade cloth available.