Copyright 2016©
Shade Cloth Options
Insect Screens Information
ANTI-VIRUS AND NO-THRIPS
"SCREEN OUT" THESE PESTICIDE HEADACHES
ANTI-VIRUS AND NO-THRIPS INSECT SCREEN SELECTION CRITERIA

INSECT PEST TO BE EXCLUDED
INSECT SIZE - INCH (microns)
SCREEN TYPE TO USE
SCREEN HOLE SIZE - INCH (microns)
PERFORMANCE
Leafminer
0.025
(640 microns)
Anti-virus
0.0105 x 0.0322 (266 x 818 microns)
100%
Melon Aphid
0.013
(340 microns)
Anti-virus
0.0105 x 0.0322 (266 x 818 microns)
100%
Whitefly
0.018
(462 microns)
Anti-virus
0.0105 x 0.0322 (266 x 818 microns)
100%
Western Flower Thrips
0.0075
(192 microns)
No thrips
0.0059 x 0.0059 (150 x 150 microns)
100%
Regardless of the cooling and
ventilation system
that you use, you need to consider insect screen. Screening
intake vents
will produce dramatic results, but all greenhouse openings, including service doors (which should incorporate double screened doors), should be screened for best results.
Given the increased problems and costs associated with pesticides, no modern greenhouse should be without the proper insect barrier. Ecologic Technologies Insect Screens, correctly installed, prevent insect penetration, yet provide maximum possible air flow, essential for optimal crop yields.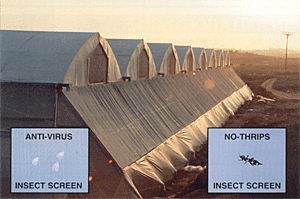 ANTI-VIRUS INSECT SCREEN Excludes Whitefly, Aphids, Leafminers and up to 80% of Western Flower Thrips in field applications. Several years of laboratory and field testing have resulted in a patented screen structure that maximizes air circulation, while keeping pests out. Special equipment has been developed to ensure hole size accuracy, and a 0.24mm diameter yarn is used, which is 45% stronger with greater UV resistance, compared to 0.20 mm diameter standard yarns.
NO-THRIPS INSECT SCREEN - Is designed to exclude Thrips and other pests, and is the material of choice where Thrips exclusion is priority.

STANDARD WIDTH SIZES:
Anti-Virus: Available in 39", 78", 118" & 137" widths. Specify width x length when ordering.

No-Thrips: 39" & 78" Widths available. Specify width x length when ordering.
| ITEM # | DESCRIPTION | PRICE/SQ. FT. |
| --- | --- | --- |
| ANTIVIR | Anti-Virus Insect Screen | $0.76 |
| NOTHRIP | No-Thrip Insect Screen | $0.91 |
$100.00 Minimum bulk Insect Screen order.  Smaller quantities please add a $20.00 small order charge to the order total.
Discounted pricing available when you order a stock size. This product ships directly from the manufacturer. The standard delivery time is 5-10 days. Stock sizes include freight charges anywhere in the contiguous USA.
ITEM #
DESCRIPTION
PRICE EACH
ANTIVIR39X100

Anti-Virus Insect Screen
39 inch  x 100 feet
$247.00
ANTIVIR78X100

Anti-Virus Insect Screen
78 inch x 100 feet
$494.00
ANTIVIR118X50

Anti-Virus Insect Screen
118 inch x 50 feet
$373.92
ANTIVIR137X50

Anti-Virus Insect Screen
137 inch x 50 feet
$433.96
NOTHRIP39X50

No-Thrip Insect Screen
39 inch x 50 feet
$147.42
NOTHRIP78X50

No-Thrip Insect Screen
78 inch x 50 feet
$295.75
NOTHRIP39X100

No-Thrip Insect Screen
39 inch x 100 feet
$295.75
NOTHRIP78X100

No-Thrip Insect Screen
78 inch x 100
$591.50