Copyright 2016©
Misting/Fog Fan Options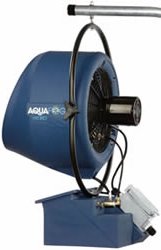 Hydro SS 700' series™ are quiet, dependable and perfectly suited for the smaller job. The Direct Feed hanging units receive liquid directly through a visual flowmeter control panel. This provides for fine "repeatable" control of the fogging output as well as enhancing dependability by eliminating sump components. Direct Feed units are well suited for the harsher environment or applications where standing water in a sump could become an issue. Each unit is equipped with a 5 GPH (20-300cc/min) flowmeter panel and 12' condensation drainage line.
AQUAFOG SS-700-DF, Direct Feed Model
Our Price: $527.22
Compact and versatile Aquafog® Hydro atomizing fans can handle a variety of indoor/outdoor humidification or evaporative cooling applications. The nozzle-free fans can atomize ordinary water supplies into a very fine mist-like-fog. Utilizing high-speed centrifugal force and air flow, these units can propel a misty-fog stream up to 20 feet away. Unlike other fog systems, all Aquafog foggers can accept ordinary water supplies, even well or pond water without the risk of clogging. The secret is in the nozzle-free, self-flushing atomization system that forces liquids through passageways in the fan blades, atomizing as the liquid exits the blades. In addition Aquafog do not require high-pressure lines. Ordinary pressurized water lines are more than enough, and units can even be gravity-fed or connected to low pressure supplies like reverse osmoses (RO) systems. By eliminating specialized pumps and filtering equipment, Aquafog saves time and reduces costs. The unique atomization process combined with the fan's forced circulation provides a quality fog with great distribution. The Hydro SS 700 is engineered to withstand humid conditions as high as 100% relative humidity. Units are constructed of impenetrable components like Nema 4 boxes and connections, all 304 stainless steel hardware, UV stabilized polyethylene housing and precision, high strength injection molded polypropylene components.
Hydro SS 700™ Features:
3 gallon per hour fogging capability
Consumes extremely low amounts of energy, 1.8 amps or less @ 115V
Adjustable angle fogging head
No-clog, nozzle-free atomization
Adjustable flow output w/ fog particles averaging 40 microns in size
14 foot power cord with grounded three prong plug
15 feet of ¼" water line tubing with water hose connector
Hydro SS 700™ Specifications:
Fogging Capacity - 0-3 Gallons per hour
CFM Rating - 1,125 Cubic feet per minute
Energy Consumption - 1.5 Amps @ 115V
Noise @ 10 ft. - 62 dB(A)
Weight - 10.5 lbs
Dimensions - 16" Diameter x 16" Length
Voltage - 110-128 Volts, 60Hz, 1ph
Coverage - About 500 sq. ft. for Humidification Applications. About 300 sq. ft. for Evaporative Cooling Applications.
1/20 HP, 115V, 60HZ, 1PH