Copyright 2016©
Misting/Fog Fan Options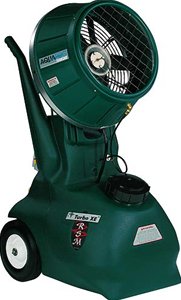 CRSM's are specially designed for chemical fumigation applications (ULV). Units have an internal agitation system that keeps chemical mixtures thoroughly stirred during the fogging operation. This powerful agitation allows the use of heavy wettable powers as well as liquid additives to be incorporated into the system. CRSM's are enormously powerful with a pivoting fogging head allowing you to propel the vapor way-up high for superior coverage and circulation. Units produce billions of tiny fog particles for treating greenhouses or similar enclosed areas from 3,000 to 30,000 sq. ft. from a single location. Compact, sturdy and easy to maneuver from location to location, systems are designed for unmanned operation and are supplied with an automatic timer control.

Aquafog CRSM' mystifies the competition; but don't let CRSM's affordable price tag fool you, these units are top quality and built like a tank. Our advanced, innovative technology gives Aquafog it's decisive edge over the big names. Well back this up with a rock solid 30 day money-back guarantee if your not completely satisfied.
AQUAFOG CRSM FANS
115V, 60HZ, 1PH, 1/2HP - Our Price: $3055.98
240V, 50HZ, 1PH, 3/4HP - Our Price: $3187.00


CRSM combines the nozzle-free, no-clog Turbo XE Fan head with a large recirculation tank. Units produce billions of tiny fog particles for complete, uniform coverage, treating greenhouses up to 30,000 sq. ft. Compact, sturdy, and easy to use systems are designed for unmanned, automatic operation. A powerful circulation pump vigorously agitates the solution for added consistency even when using heavy wettable powders. Impressive five gallon-per-hour fogging capability minimizes operating time, and CRSM's unique design and atomization process keep costs well below comparable foggers.

Four position pivoting fogging head

Automatic operation for unmanned use, with timer control.

Designed with heavy-wall UV stabilized construction, all watertight electrical enclosures and connections, all stainless steel hardware.

Large tank hold up to 18 US gallons (68 liters).

Unlike other fog systems, Turbo XE Foggers can accept ordinary water supplies, even well or pond water without the risk of clogging. The secret is in the nozzle-free, self-flushing atomization system that forces liquids through passageways in the fan blades, atomizing as the liquid exits the blades. In addition, Turbo XEs do not require high-pressure lines. Ordinary pressurized water lines are more than enough. By eliminating specialized pumps and filtering equipment, Aquafog saves time and reduces costs. The unique atomization process combined with the fan's forced circulation provides high quality fog and uniform fog distribution.

The powerful CRSM is engineered to withstand humid conditions as high as 100% RH and above, and corrosive environments containing salts, lime, ammonia and other acidic compounds. Units are constructed of impenetrable components like Nema 4 connections, all 304 SST hardware, UV stabilized polyethylene plastics, PVC dip-coated steel, and sulfuric anodized aluminum. CRSMs are also standard-equipped with a Baldor wash-down-duty motor that is specifically designed for wet, corrosive environments.
Standard shipping charges do not apply to these items. The CRSM ships via common carrier and actual freight charges will be quoted before the order is processed.

Standard CRSM features:

CRSM's have adjustable fogging capabilities up to 5 US GPH, producing particles that average 5 microns in size.

Circulation pump vigorously agitates solution, allowing use of heavy powders.

Equipped with flow control, automatic fill float assembly, overflow port, water hose connection.

Features no-clog nozzle-free atomization head and made of thermo-plastic that's highly corrosion-resistant.

Fluid level gauge and large-mouth opening make it easy to mix and fill tank with chemicals.

Drainage plug for easier cleaning.

Units treat up to 30,000 square feet.

Extensive operator's manual includes dilution charts and spraying procedures.

Delivered fully assembled, ready for operation; shipped by common carrier.