Copyright 2016©
Misting/Fog Fan Options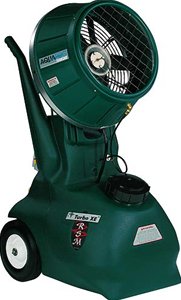 Ultra-fine atomization and powerful circulation for complete dispersion of liquid chemicals. Mobile ORSM™ floor units feature a pivoting fogging head, allowing to easly direct the product right where you need it. Units have enormous capability to atomize liquid additives into a vapor mix with very powerful air-flow. Odor neutralizing chemicals or other liquid additives that need to be fumigated for large indoor/outdoor applications is the job for ORSM™. The compact design features an 18 gallon tank; ideal for demonstrations and short-term jobs. ORSM also features connections ports for permanent installations. For continuous duty operation, ORSM can be directly connected to a metering pump, that would supply a precise amount of concentrated chemical to the unit. This concentrate would enter the main plumbing supply line at the back of the ORSM and would get mixed together with a never ending supply of fresh water controlled by a flow control valve. The chemical mixture is then directed to the powerful fogging head for atomization and dispersion.
AQUAFOG ORSM FANS
115V, 60HZ, 1PH, 1/2HP - Our Price: $2114.41


Combining the proven TurboXE Fan with a mobile recirculation tank, ORSM's compact design is ideal for demonstrations and short-term jobs, but also features connections for more permanent installation.

Arrives fully assembled, ready for quick and easy installation.

Includes water hose, float valve connection for continuous supply of fresh water.
Connects to a concentrated supply of chemical using a metering pump for a more permanent installation. -Includes water hose, float valve connection for continuous supply of fresh water.
Large 18-gallon capacity tank and wide-mouth opening for manual fill.
Low volume output unit with an output range of 0-8 gph, factory preset at 5 gph.
Four position pivoting fogging head
Unlike other fog systems, TurboXE Foggers can accept ordinary water supplies, even well or pond water without the risk of clogging. The secret is in the nozzle-free, self-flushing atomization system that forces liquids through passageways in the fan blades, atomizing as the liquid exits the blades. In addition, TurboXEs do not require high-pressure lines. Ordinary pressurized water lines are more than enough. By eliminating specialized pumps and filtering equipment, Aquafog saves time and reduces costs. The unique atomization process combined with the fan's forced circulation provides high quality fog and uniform fog distribution.

The powerful ORSM is engineered to withstand humid conditions as high as 100% RH and above, and corrosive environments containing salts, lime, ammonia and other acidic compounds. Units are constructed of impenetrable components like Nema 4 connections, all 304 SST hardware, UV stabilized polyethylene plastics, PVC dip-coated steel, and sulfuric anodized aluminum. ORSMs are also standard-equipped with a Baldor wash-down-duty motor that is specifically designed for wet, corrosive environments.
Standard shipping charges do not apply to these items. The ORSM ships via common carrier and actual freight charges will be quoted before the order is processed.

Standard ORSM features:

Large tank holds up to 18 US gallons (68 liters).

Engineered for harsh environments, units have all stainless steel hardware and heavy wall thermo-plastic construction.

Equipped with an oil-filled pump, an inlet for a metering pump and a priming system.

Also features automatic water fill float assembly, overflow port, water hose connection, liquid level pointer gauge.

Wide mouth opening for adding chemicals.

Drainage plug for easier cleaning.

Sturdy molded handles and 10" semi-pneumatic wheels for rugged mobility.

Ships by common carrier, fully assembled, ready for operation.

240V, 50HZ, 1PH, 3/4HP - Our Price: $2143.61