Re-Verber-Ray® SW series electric infrared heaters are unique in their ability to produce both infrared heat and visible light energy. The source of this energy comes from short wave electric lamps encased in an aesthetically pleasing enclosure. Available in an assortment of sizes, casings and colors, the heater offers both choices and solutions for your application. Operational benefits include a highly efficient energy transfer, lower mounting heights, heat energy, and light energy. Made in the USA!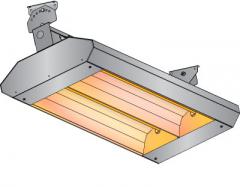 Product Features:

Compact, aesthetically pleasing construction.

Instantaneous heat-up & cool-down.

0-45 Degree adjustable mounting brackets.

Heater housing available in either black powder coated aluminized steel or brushed 304 grade stainless steel.

Choose either clear quartz lamps or optional glare reducing ruby quartz lamps.

Single, double or triple construction models.

From 1,600 to 11,400 watt output.

ETL Certified for indoor or outdoor use.

1 Year Limited Warranty on components.


Typical Applications include:

Restaurant Patios, Parking Garages, Valet Waiting Areas, Airport Entrances, Hospital Entrances, Vestibules, Smoking Areas, Outdoor Waiting Areas, Greenhouses and much more!